On the evening of August 19, 2022, the award ceremony of ALB China Regional Law Awards 2022: East China was grandly hosted in the Shanghai Tower. With our excellent performance and good reputation within the intellectual property area over the more than two decades' time, Watson & Band was honored "Intellectual Property Law Firm of the Year: East China – Local".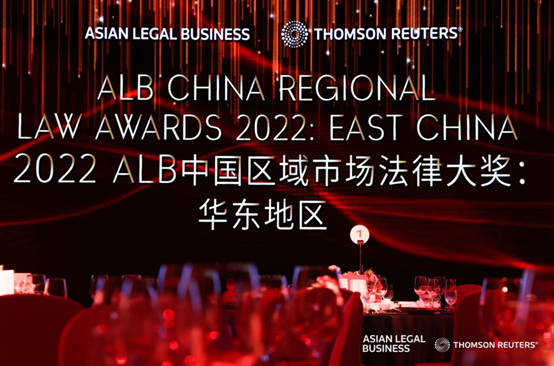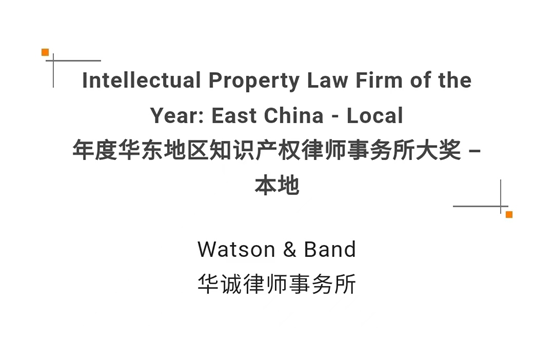 Over the more than two decades' time, Watson & Band's great strengths and outstanding performance in the intellectual property area have won it broad recognition and high reputation. Our litigation team has successfully handled thousands of IP litigation cases, many of which have made exemplary and landmark influences within the legal industry for their difficulties and complexities and the innovative strategies and breakthrough attempts involved therein. In the meantime, supported by the solid litigation background, our prosecution team applies the extensive litigation experience to IP rights applications, and thus our IP services cover the entire lifecycle of IP rights from mining, application and acquisition to enforcement and further to transfer and commercialization, ensuring a full-course escort for the clients' rights.
In recent years, over a dozen IP cases handled by Watson & Band were successively selected into the top/exemplary cases of the year or the yearbook on IP cases by the Supreme People's Court, the Higher People's Courts or the National Intellectual Property Administration. Meanwhile, a number of Watson & Band's elites have been included in the lists or databases such as "1000 National Foreign-service Lawyer Talents", "Shanghai's Talent Pool of Foreign-service Lawyers", "Shanghai's Foreign-service Legal Talent Pool" and "Outstanding Practitioners within Shanghai's IP Services Industry", presenting Watson & Band's great service capability in the intellectual property area, and in particular in foreign-related services.
In future, Watson & Band's IP services team, adhering to our philosophy of "integrity, strategy, professionalism and dedication" and relying on our Shanghai head office and other local offices as the service centers, will deliver our high-quality services to various regional markets all across China, and will exert our professionalism to provide full-life-cycle protection for the clients' IP rights.
The debut ALB China Regional Law Awards 2022: East China focuses on the legal services markets in the six city and provinces including Shanghai, Shandong, Jiangsu, Anhui, Zhejiang and Jiangxi, and aims to recognize and make known the top-tier law firms with great strengths and excellent performance in the above said legal services markets and to encourage more legal teams and practitioners to make their contribution to the relevant practice areas.