Watson & Band Ranked in 2018 Benchmark Litigation Asia-Pacific Guide
Fri Jun 15 15:12:00 CST 2018
Published by:Editor
Recently, the well-known international legal rating organization Benchmark Litigation released its 2018 Asia-Pacific Guide. Watson & Band was recommended in the Intellectual Property practice area.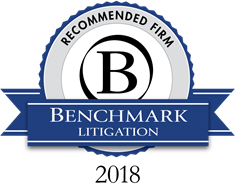 Watson & Band, as one ofChina's oldest intellectual property service providers with the qualifications as a foreign-related patent agency, maintains a leading position in the intellectual property industry due to its extensive experience. Watson & Band's IP-related services cover agency and consulting services concerning trademarks, patents, copyrights and other new types of IP rights, enforcement and litigation services, and commercial IP-related legal services.
Watson & Band's IP practice team is made up of hundreds of professionals including lawyers, agents, engineers, professors, scientific researchers and senior consultants. IP services offered by Watson & Band encompass the fields of chemistry, biotechnology, pharmaceuticals, machinery, electronics, telecommunications, data, optical physics, automatic control, metallic materials and semiconductors, etc.
Benchmark Litigation is the only annual rating guide around the world that focuses on the dispute resolution area. Having its inception in 2008, Benchmark Litigation is now recognized as one of the most authoritative rating guides in the dispute resolution area.