W&B Again Listed in IAM Patent 100 – China Domestic Firms: Litigation and Transactions
Fri Jun 22 17:28:00 CST 2018
Published by:Editor
Recently, the authoritative international IP media Intellectual Asset Management (abbreviated as "IAM") released its 2018 IAM Patent 1000 Lists. W&B is again named in the list China Domestic Firms: Litigation and Transactions.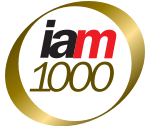 In the patent litigation area, W&B, on a case-by-case basis, establishes special teams equipped with professional investigators to support its clients with high-quality and efficient services. Meanwhile, in the IP agency area, In consideration of general industry needs and the unique business characteristics of its clients, W&B has established permanent special practice teams to provide comprehensive services to its clients. Supported by a solid patent litigation background, these teams apply their extensive litigation experience to patent applications. In this way, W&B's IP litigation services and IP agency services complement each other and ensure to escort the clients' patent rights and other intellectual property rights. This year's IAM Patent 1000 comments on W&B as follows:
Patrons on the lookout for comprehensive, insightful guidance at each stage of the IP lifecycle would do well to instruct Watson & Band. Split across eight divisions, the prosecution arm ably covers all bases. Conveniently situated near the Yangtze River Delta, the firm places a strong emphasis on assisting the area's technology start-up scene to patent their inventions and is currently developing a fully fledged practice dedicated to their needs. Where the office truly justifies its inclusion in the guide, however, is in its talented litigation department; the team excels in dispatching contentious challenges and offers a potent draw for Fortune 500 companies. Playing a crucial role in infringement and invalidation proceedings, Jianguo Huang is a key contact for interested parties.
As a world-class patent publication, IAM Patent 1000 provides customized guidance for patent practitioners and companies from major jurisdictions around the world. It is also known as the only one-stop guidebook in the world's intellectual property industry that focuses on provision of top-tier practitioners and rankings in the patent prosecution and patent litigation areas.